Microsoft Azure Peering Service
Services
Microsoft Azure Peering Service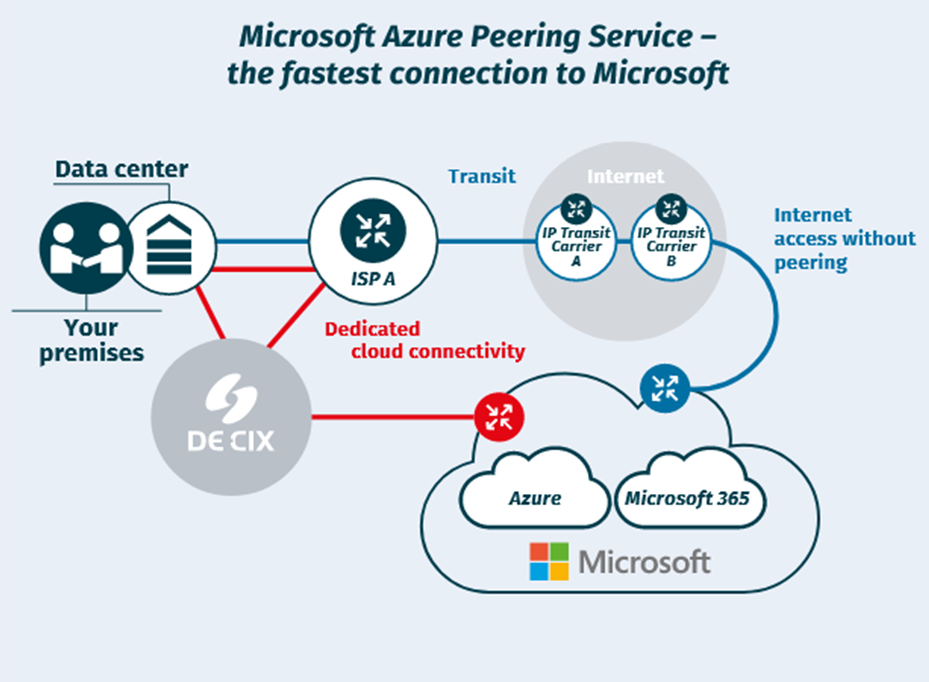 Get an SLA-backed, DDoS-free direct connection to Microsoft 365. The service, developed together by DE-CIX and Microsoft, provides highly reliable and optimized Internet connectivity to Microsoft's cloud services. Improve user experience by offering the shortest network path from your premises to the nearest edge PoP in the Microsoft network.
Microsoft Azure Peering Services is a cloud-based networking solution that enables you to connect directly to the Microsoft global network, with multiple points of presence (PoPs) strategically located worldwide. This direct connectivity ensures efficient and reliable access to Microsoft cloud services such as Azure, Office 365, and Dynamics 365, delivering an exceptional user experience to your customers.
Here are some key advantages of Microsoft Azure Peering Services at DE-CIX India:
1) Enhanced Network Performance: By establishing a direct connection to Microsoft's global network, you can significantly reduce latency and enhance network performance. This translates into faster access to cloud services, improved response times, and an overall better end-user experience.
2) Reliable Connectivity: Azure Peering Services at DE-CIX India provides robust and redundant connectivity options, ensuring high availability and reliability for your network infrastructure. This helps minimize downtime and supports mission-critical applications and services.
3) Optimized Cloud Services: Connect directly to Microsoft's cloud services through Azure Peering Services, bypassing the public internet. This optimized routing allows for improved data transfer rates, reduced packet loss, and enhanced security, enabling you to maximize the potential of your cloud investments.
4) Increased Flexibility: Azure Peering Services offers flexible connectivity options, allowing you to choose between public or private peering. You have the freedom to select the best option that suits your specific requirements and network architecture.
5) Simplified Management: Azure Peering Services are designed to integrate seamlessly with your existing infrastructure and network management tools. You can easily monitor, manage, and troubleshoot your connectivity through the intuitive Azure portal, providing you with greater control and visibility.
We encourage you to explore the possibilities offered by Microsoft Azure Peering Services at DE-CIX India. By leveraging this powerful networking solution, you can unlock new levels of performance, scalability, and reliability for your network infrastructure while optimizing your cloud services.
For more information, please visit the Microsoft Azure Peering Services website or reach out to our dedicated support team. We are here to assist you in maximizing the benefits of this exciting collaboration.
Thank you for being part of our ISP community, and we look forward to helping you accelerate your digital transformation journey with Microsoft Azure Peering Services at DE-CIX India.
To connect with India's Largest Interconnection Platform with over 590 connected networks and 61 CDNs located at 17 Points of Presence across India:
Call: +91 8879679816 | Email: marketing@de-cix.in
BENEFITS
Guaranteed high-performance connectivity with the lowest possible latency.
A guaranteed DDoS-free connection even for the smallest bandwidths.
Binding SLAs and supported by Microsoft.